01 December 2022
Get to know our new process- and product development team
It is now more than one year since we decided to offer private label products at the FIPROS sister company FIPROS Nutrition. A year full of new insights, exciting developments, and challenges. Today, we are proud to be able to offer 10 different nutritional recipes targeted at juniors, teens, adults, and seniors. A success that we mainly owe to our great process- and product development team.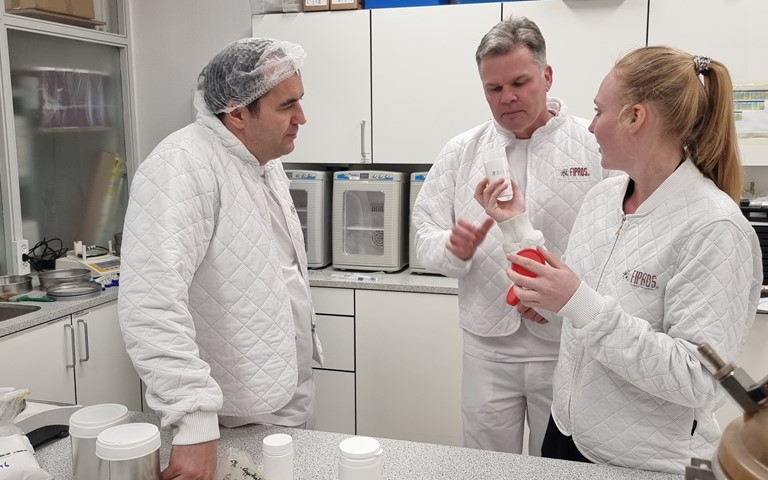 In our June newsletter, we already introduced to you Hasan, our processing developer who has been with us for several years now. Hasan was joined by Simone and Tony this year, who, amongst other process development tasks, support Hasan in creating nutritional and well tasting new products for our private label portfolio, adapting our existing products to individual needs, and advising our customers.

Simone holds a Master of Science in Biochemistry and Molecular Biology and has already from 2016 to 2020 worked at FIPROS as a student freelancer for cleaning controls on a microbiological level. She has also worked at Eurofins as a laboratory technician in serology and COVID-19 laboratories before she rejoined FIPROS fulltime as a scientific specialist in August this year.

In November, Tony joined the team as product- and processing developer. Tony has many years of experience as a product developer, QA specialist and project manager in the food industry, amongst others at Ardo, Danfrugt, A. Espersen and Asiros Nordic. He will work closely together with Simone and Hasan on a variety of different development projects across FIPROS and FIPROS Nutrition.

If you want to know more about our Private Label portfolio or require help with a processing task, our team is looking forward to hearing from you.