20 October 2022
First Lifetime Nutrition private label products ready
As we have already reported in October last year, the FIPROS A/S subsidiary FIPROS Nutrition has expanded its offer from sole contract manufacturing to offering also private label recipes in the Lifetime Nutrition segment. After some months of extensive research and development work, the creation of new business partnerships in the nutritional sector, and a steep learning curve for the entire FIPROS Nutrition team, we are now happy to present our first own FIPROS Lifetime Nutrition products.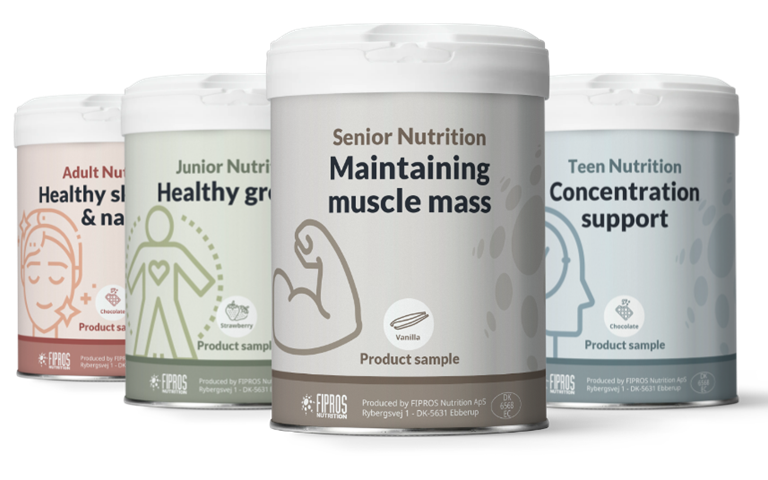 FIPROS Nutrition offers private label products in five consumer segments: infant nutrition, junior nutrition, teens nutrition, adult nutrition and senior nutrition. For each segment, we focus on different relevant claims, such as for example healthy growth, cognitive development, beauty, or bone- and joint health; to mention a few. We want to inspire our customers to enter new business areas and explore the opportunities that lie behind each product. It is possible to choose amongst our standard portfolio or customize blends according to individual needs.

Each product is of course made of high-quality raw materials, sourced mainly in Denmark or northern Europe, and mixed and filled at our state of the art, certified facility under strict hygienic conditions.

If you want to learn more about our portfolio and services, please contact our sales team. We look forward to hearing from you!